Welcome!
---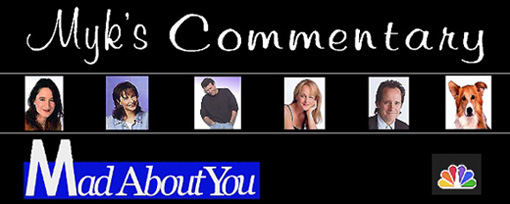 &nbsp&nbsp&nbsp&nbsp To all of you have written and been so incredibly patient with this site and my lack of updates, a big THANK YOU!!! I've received some of the kindest, most encouraging comments a guy can imagine. In many cases much kinder than I probably deserve.


&nbsp&nbsp&nbsp&nbsp As many of you may know, the first 2 seasons of Mad About You are now available on DVD. At least they are in the United States. I don't know if versions are available overseas, but the best place to get the DVD no matter where you live is Amazon.com. So make sure you get pick up a copy for yourself and a couple of others to give away. They make great gifts!


&nbsp&nbsp&nbsp&nbsp But thanks to everyone for making this site as well visited and referenced as it is. Please bookmark this site and, above all, keep checking back and writing me with your comments and questions. I promise I read each one and respond to almost all of them. Usually the only time I don't respond is if my computer crashes and I lose the original message and return address. I did, however, lose all my emails between Dec. 1, 2002 and May 1, 2003. So, if you emailed me from this site then, please write again. I apologize for not having been able to respond.
---
The reviews and commentary on this site are ©, 1997,1998,1999 & 2001 Myk Sealy. The photos are from actual show tapings, © 1992-1999 and, therefore, they belong to either NBC, or Columbia/Tristar, but certainly not me. If there are any other © copyright infringements they are completely unintentional. Just write me and I'll give credit where it's due.
---
This page was last updated at 5:35 a.m.(CST) July 7, 2003.